Press [w] to wield a weapon. Press [x] to exchange between your primary and secondary weapons. Use #twoweapon to wield both at once, if you possess that skill. Attack monsters by trying to move to their square, or with the [F]ight command.
"w-" is the command to not wield a weapon, i.e. fight empty-handed. This is the default and ethical preference (see conduct) of monks. It is also a preferred way to attack weapon-hazardous monsters such as acid blobs, rust monsters, etc. before you have a resistant weapon (unicorn horn).
A weapon can be made erodeproof by wielding it as one's primary weapon and reading a scroll of enchant weapon while confused. Erosion can be repaired by using a scroll to make the weapon erodeproof, or in some cases by dipping the weapon in a potion of oil. Note that there is little reason to erodeproof wooden weapons, because weapons can only be made to burn in very unusual circumstances.
Table of weapons and their properties
[
]
(‰) Relative probability.[1] Figures are given as probability in a thousand, or permille.
(†) Objects are significantly more common in play than their probability would otherwise imply due to monster starting inventory or certain traps.
(1) When user is riding then the lance gets an additional 2d10 in case of a successful joust, victim is also automatically stunned and thrown back a square.
Strategy
[
]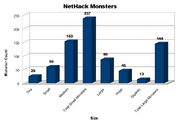 The majority of monsters in the game are classified as small on the table. However, many of the harder monsters in the game are classified as large. In the early game, large monsters tend to be incredibly dangerous. In the later game, many of the most difficult monsters are "medium" size, which take damage as per small in the table.
In general, the best weapons to wield are the ones that do the most damage (although, in the early game, low weight can also be a consideration, depending on play style; a knife is particularly lightweight, leaving plenty of your strength left over for carrying other important items, such as spare armor, or items that you would like to sell when you find a shop). Also, curved weapons (such as scimitars) can be better than their stats would seem to indicate. For the late game, high damage becomes extremely important, making a dwarvish mattock or tsurugi particularly good, especially if you do not have a good artifact weapon or are playing for the artifactless conduct.
See also
[
]
This page is a stub. You could probably expand this page should you wish to do so.